Client:
Flogas Britain Ltd carried out the main installation of this heating scheme providing hot water to this popular health farm and Spa.
Project:
The project involved the design, supply and installation of a single 250mm diameter twinwall chimney system serving a single Wood Energy Solutions EC150 biomass boiler.
Solution:
The Therminox TI chimney system runs from the appliance outlet up and out through the new boilerhouse wall. Turning vertically it then rises to terminate above roof level. A draught stabiliser unit was installed to help regulate the flow of flue gases. The whole system was supported using standard support components. PUK carried out full chimney sizing calculations for the chimney system to ensure that the appliance would operate efficiently and that all flue gases were evacuated at the correct termination height in accordance with the Clean Air Act, TG09 and Local Air Quality Management Area requirements.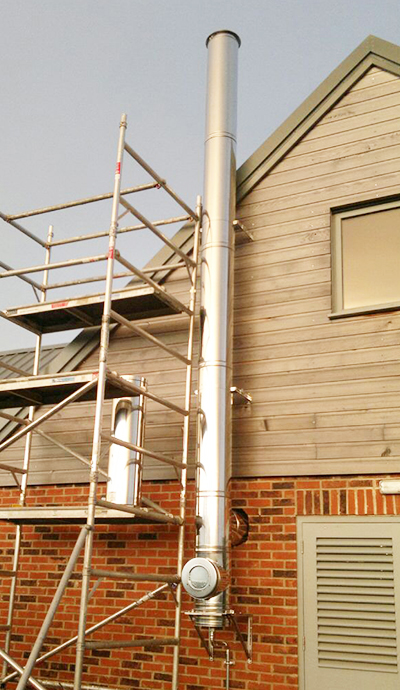 Chimney System:
Therminox TI comprises a 316L grade stainless steel inner liner, 32mm of high grade, high density (130kg/m3) mineral wool insulation and a 304 grade stainless steel out casing all Certified to BS EN 1856-1 and designed to T450 N1 W V2 L50050 G50.