Client:
Our client for this project was Vision Energy Ltd who carried out the main installation of this district heating scheme serving the school and other buildings.
Project:
The project involved the site survey, design, manufacture, supply and installation of an 11.0m high free-standing stainless steel Cheminnov twinwall chimney system serving a single Froling TM500 biomass boiler.
Solution:
Chimney sizing and structural calculations based upon the proposed flue route and the surrounding location were prepared to ensure optimum performance of the appliance and the best termination height of the chimney system in order to comply with the Clean Air Act, TG09 and the Local Air Quality Management Area requirements. Holding down bolts and a template were sent for the main contractor to set into a mass concrete base outside the new plant room and a suitable hole through the cladding of the building was cut. On the designated day the 11.0m Cheminnov chimney system arrived on site and was lifted up in a single section and lowered onto the waiting bolts. Within an hour the chimney was levelled, secured and ready for connection. Therminox Ti was used for the connection from the Cheminnov to the boiler outlet and with this in place the project was completed ready for handover. The Poujoulat's installation team was in and out in a single day.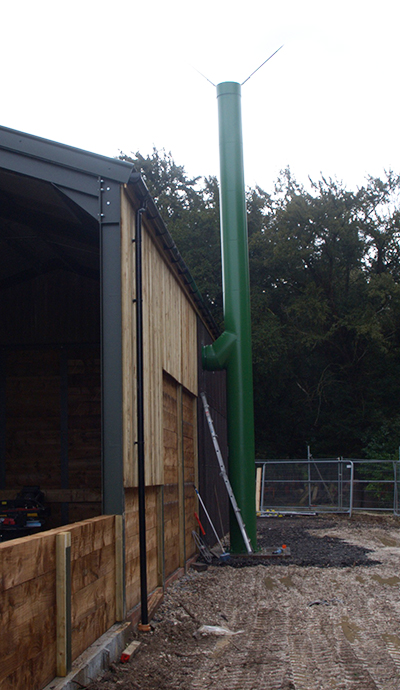 Chimney System:
Connection from the appliance outlet to the vertical Cheminnov was made using Therminox TI comprising a 400mm inside diameter 316L grade stainless steel inner liner, 32mm of high grade, high density (130kg/m3) mineral wool insulation and a 464mm outside diameter 304 grade stainless steel out casing Certified to BS EN 1856-1. Designed to T450 N1 W V2 L50050 G75. The freestanding 400mm inside diameter Cheminnov chimney was manufactured with a 316 grade stainless steel inner liner, 50mm of high grade, high density mineral wool insulation and a 500mm outside diameter 0.8mm thick aluminium cladding all finished with a polyurethane powder coated green as per the customer's requirements.