Client:
Our client for this project was Green Spark Renewable Energy Ltd who were carrying out the installation at their own premises to serve a single oil fired Unical Ellprex 2650 boiler unit.
Project:
The project involved the site survey, design, supply and installation of a high quality stainless steel twinwall chimney system that passed out through the plantroom wall before rising up the outside of the metal clad building structure to termination.
Solution:
himney sizing calculations based upon the proposed flue route were prepared to ensure optimum performance of the appliance and a 600mm inside diameter Therminox TI chimney system. From the outlet of the boiler unit the chimney system ran horizontally some 3.7m to pass through a pre-cut hole in the cladding of the building. Outside, a swept tee arrangement was installed on a purpose built floor standing table type support which also carried a standard tee and draught stabiliser unit to control the flue gases. The 8.3m vertical riser was secured to the building structure using standard extended brackets to terminate 3m above the eaves level with an open cone top. The purpose made support table and the complete chimney installation was carried out by Poujoulat's installation team in two days.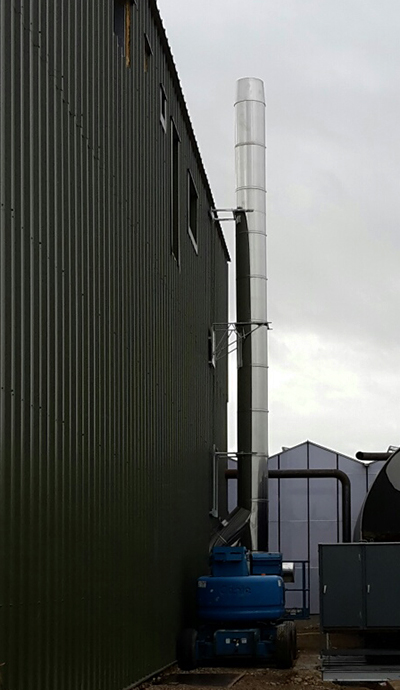 Chimney System:
Therminox TI comprises a 316 grade stainless steel inner liner, 32mm of high grade, high density (130kg/m3) mineral wool insulation and a 304 grade stainless steel out casing. Certified to BS EN 1856-1. Designed to T250 N1 W V2 L50060 O40 for the complete system.