Client:
NG Bailey Ltd
Project:
To supply and install five new twinwall insulated stainless steel boiler connections serving the five Rehema P320-5 natural gas fired boiler units.
Solution:
Connecting the five new appliances into the existing common horizontal header arrangement was quite a challenge in this congested plantroom as the header system ran at high level making access and support for the new connections interesting. Full flue gas sizing calculations were carried out to ensure that the solution offered matched with the performance expectations of the appliances and the client. Each of the 2.7m long connection sections were made using 250mm inside diameter twin-wall Therminox TI system comprising a stainless steel 316L inner - stainless steel outer - 32mm mineral wool (130kg/m3) insulated annulus and our team spent just one day on site completing the installation ready for handover.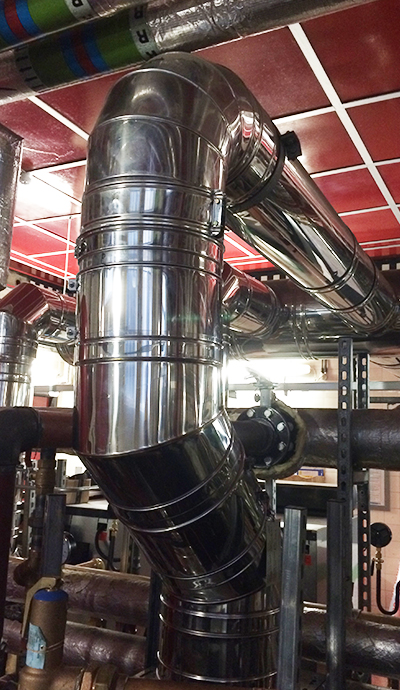 Chimney System:
The Therminox TI chimney system is CE marked, manufactured and designed as suitable for use with any type of gas, oil and wood-burning atmospheric appliances, but are perfect for all condensing appliances with a maximum operating temperature of 200°C.