CAT-RANGE: View products & pricing and place orders online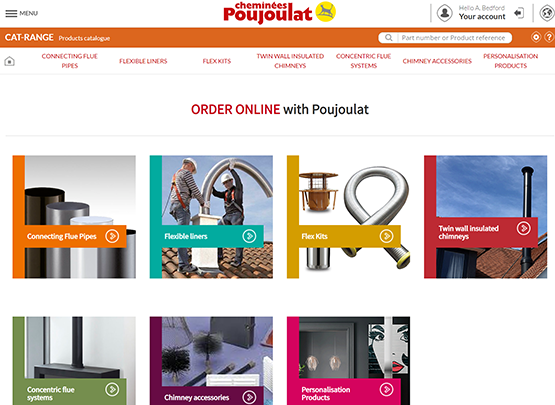 CAT-RANGE is an online ordering platform, created to enable you to place your Poujoulat UK orders online. Part of the Poujoulat range of digital tools, CAT-RANGE should be used in conjunction with the "CAT-VIEW" order tracking tool to enable you to place and track your orders and invoices more effectively.
CAT-RANGE is for placing orders only and is not set up to take payment at the time of order. You will continue to pay for your orders as per your existing account status (e.g. on a 30-day account or our customer service will call you to take payment once they have received your order via CAT-RANGE).
How It Works
Once logged into the CAT-RANGE online ordering platform, placing an order is easy. Simply find the products or components you need and add them to your basket.
Continue through the ordering process, entering your preferred delivery address, a unique order reference, your preferred delivery date and contact details, then checkout.
You will be sent an email detailing your order and a copy will be sent to our customer service team to validate. The customer service team will also confirm whether any additional discounts (e.g. bonifications) need to be applied to your order and confirm the delivery date.
When your order has been validated by the customer service team you will then be able to track its progress in CAT-VIEW.